Being in a long distance relationship can be quiet difficult. You spend nights wondering where the one you love is, what he or she is doing and if he or she is thinking about you. There are days and nights you just want to cry and stay in bed because missing that person is really killing you. You long for the few moments when you can call him or her. You smile and laugh by yourself recounting the memories you've had together. You reread his or her messages so many times you've already lost count.
You both promised to be faithful to one another. You want to keep that promise. You always try to find inspiration to motivate you to be strong. You also try to find ways to continue keeping the love burning alive despite the miles between the two of you. And since I am the Love Queen, I have scoured the internet to help you find inspiration through these quotes and passages that can help you with your LDR.
"Distance gives us a reason to love harder." – Anon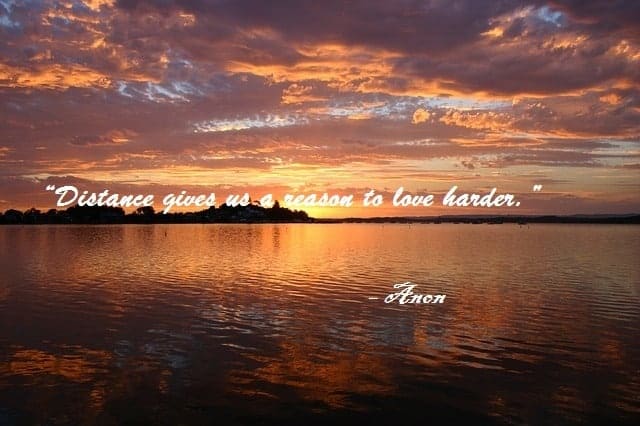 "When two hearts are meant for each other, no distance is too far, no time too long and no other love can break them apart." – Anon
"In human relationships, distance is not measured in miles but in affection. Two people can be right next to each other, yet miles apart." — Unknown
"The thought of being with you tomorrow, gives me the strength to get through today." – Anon
"Hearing your voice is far better than you touching me. Because even though I yearn for your skin to touch mine, it is your voice that touches my soul." – Anon
"The best and most beautiful things in the world cannot be seen or even touched. They must be felt with the heart." — Helen Keller
"And as days go by, the memories remain. I wait for you. As days go by I swear I'll try. Until I die. Anything for you." — Unknown
"Blow 'o wind to where my loved one is. Touch him and come touch me soon. I'll feel his gentle touch through you and meet his beauty in the moon. These things are much for the one who loves. One can live by them alone: that he and I breathe the same air and that the earth we tread is one." – Ramayana
"Certain things catch your eye, but pursue only those that capture the heart." – Ancient Indian Proverb
"If the only place where I could see you was in my dreams, I'd sleep forever." — Unknown
"In a long distance relationship your love is tested & doubted every day, but you still prove to each other that it's worth it. That is what makes the relationship so special." – Anon
"Long distance relationships are hard, but they're also incredible. If you can love, trust, respect, and support each other from a distance then you'll be unstoppable once you're physically together." – Anon
"Distance is temporary, but our love is permanent." — Unknown
"Distance never separates two hearts that really care, for our memories span the miles and in seconds we are there. But whenever I start feeling sad, because I miss you, I remind myself how lucky I am to have someone so special to miss." – Unknown
"When you feel like giving up, remember why you held on for so long." – Unknown
"True love doesn't mean being inseparable; it means being separated and nothing changes." – Unknown
So there you have it. I hope these beautiful and inspring words helped you in your journey of love. Loving from miles away may be difficult but if you truly believe that your love is strong then no matter how far you are from each other you will continue to keep the your promises to each other. Constant  communication and trust are keys in maintaining an LDR. Stay strong and always remember the happy times you had together. Have plans for the future. No matter what happens remember that if you truly believe in your love, you will do everything to keep the fire burning.